A 3D Tour can help make marketing for Restaurants easier.
 Imagine clients are looking for restaurants to host corporate or private events; A 3D Virtual Tour can help your restaurant by providing it with a valuable marketing tool to drive customers into your restaurants and fill its empty tables.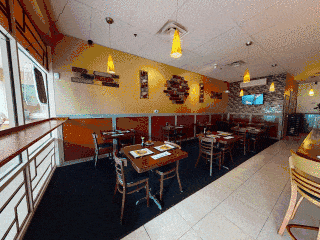 3D Virtual Tours are easy to use, easy to share, affordable and the benefits are incredible. For Restaurants, adding a 3D virtual Tour can be a necessary tool as people want to see more virtually. 
People are always looking for spaces to host corporate events, birthdays, engagements, graduations, or any other occasion, so why not make their decision easier?
3D tour is a perfect tool to Market potential clients a realistic vision of your Restaurant. 
Restaurant Virtual Tours and Photography Services are two powerful and easier ways to give the world a taste of a Restaurant's dining experience before they even sit down to eat.
It makes planning and ultimately making their decision to host the event at their Restaurant easier.  It helps provide restaurant customers with a virtual look at how a restaurant can accommodate their needs. 
Using 3D virtual tours and high definition 4k Photography, allows any restaurant owner the ability to display the property's aesthetic and atmosphere that still photos wouldn't.  This will consistently generate new business and keep new customers coming through their Restaurant doors.
Seeing your restaurant in a 3D is more than just a virtual experience!
A restaurant 3D virtual tour can incorporate additional special features in Marketing such as:
Linking a video that can emphasize the warm and welcoming ambiance you desire.
Mattertags that can display Menu, highlight daily specials, happy hour, etc.
Restaurant Virtual Tour Slideshows can help highlight specialty dishes unique to your restaurant
Provide links to Yelp, Open Table, and other essential social media pages to increase your exposure.
Upload your restaurant to Google Street View and Maps.
Attach personalized walk-through videos to display all the aspects of your restaurant (exterior seating, decorative patios, etc.)
On top of just providing a better viewing experience for the customer, this state-of-the-art technology will strengthen a business' web presence and positively affect the number of website views. It can also help extend the duration of each site visit. These numbers go a long way toward optimizing a restaurant's website and increasing the chance of people finding your Restaurant easily online. 
Steps to a complete a Successful 3D Tour Marketing for a Restaurant:
First you Schedule. You choose a date range that fits your schedule and we find the best time to get our professional Matterport photographer out to shoot your property.
Following Step 2: Shoot. Certified photographers arrive, set up the property, scan and capture all requested panoramic views, and still photos.
Step 3: Produce.   In addition a skilled team of editors, programmers touch up your photos, stitch your 360 panoramas, and code/produce your 3D Tour.
Then comes Step 4: Delivery. Our project managers oversee the process from start to finish and ensure that each project is delivered on time and to your liking.
Turnaround time for a Project is 3-4 Days.
Finally, Step 5: Upload into Google Street View. Everyone searching for your restaurant will be able to access the 3D tour from Google maps when your restaurant shows up in the search.
Take a look at restaurant pay off quotes for a 3D Tour Marketing.
What is the Average Cost per 3D Tour Marketing Project?
The average cost for a Restaurant to receive a Virtual Tour, Restaurant Photography is roughly $800 to $1000.
What is the Average Sales to Payoff?
If a Restaurant makes the low average of $50 per table, it will take roughly 20 tables to pay off their initial investment into 3D Tours and professional Photos.
What could be the Average Time to Payoff? 
Restaurants serve well over 20 tables per day; therefore, it will take less than one day to pay off their investment for the marketing.
As you can see, exposing a restaurant is affordable and the return of investment is totally worth it.
Do you want more customers at the time of lunch or dinner?